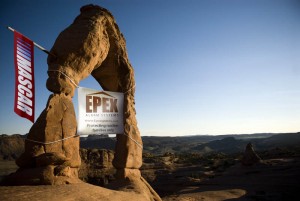 Arches National Park became the first of America's treasured landscape regions to capitalize on former President Bush's lame duck loosening of environmental safeguards; auctions are planned to allow advertisers access to the red-rocked tourist destination.
Delicate Arch — the longstanding symbol of Utah — stands to be the big-ticket real estate offered. Bidding is expected to reach nearly $10 million for quarterly-allotted space on the arch. All entities looking to cash in on the opportunity have remained mum with hope that the silence will keep prices low and strategies down for prospective bidders.
"It could end up being Dodge, Tampax, Mitt Romney '16, or even Deseret Industries," said auctioneer Roger McDougal. "One thing is certain: the myriad visitors to Delicate Arch will have a creatively-corporate surprise awaiting their ascent."
The arch has been coined as the "Super Bowl commercial" of advertising space by visitor Daryl Gordon, who further added, "The arches have been around almost as long as the Super Bowl — maybe longer — and they deserve the same respect that the Super Bowl commercials receive."
Eating establishment tycoon McDonald's has been banned from advertising on any arch-shaped rocks in the national park, following a leak to the media from CEO James A. Skinner of his intentions to turn each arch into a double arch to mirror the establishment's signature golden arches. "Not cool, McDonald's. Not cool," said Lisa Jackson, administrator of the Environmental Protection Agency. Jackson will enlist the help of her entire staff at the auction to "ensure that a rogue McDonald's representative doesn't go Tim DeCristopher on Delicate Arch's ass," she said.
Once the winning bidder has staked claim to the millions of years' worth of salt bed deposit and debris-compressed rock of Delicate Arch, the DMV will print stickers with said advertisement on them. A mandate requiring each owner of a vehicle with the Utah license plate depicting Delicate Arch to apply the sticker to the plate will be enforced during the month of April, alphabetically. Last names A-H will have from April 1-10; I-P from April 11-20; Q-Z from April 21-30. Failure to comply will result in severe penalties, fines and a freeze on car registration.