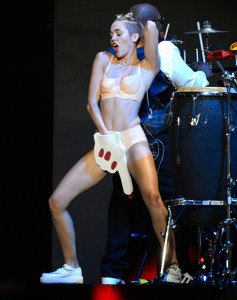 Miley Cyrus—not yet a Mormon since she has not passed on—has once again been caught not acting like a Mormon, said various Mormon sources.
Flabbergasted and willing to opine, legions of Latter-day Saints bemoaned the "yucky" change that the former Hannah Montana star has apparently inflicted upon them. "It's like Miley thinks she should have control of her life and do whatever she wants. We were her first fans, and she owes us her morality!" said a disgusted Braylynna Hopkins.
Her MTV VMA performance with Robin Thicke provoked the [self]righteous on every social media outlet. The quotes below are from the '1 Million Mormons on Fb' group on Facebook:
"Seriously, what was the deal with the foam finger?!!?!!!!!"

"LoL! She is playing with her make-believe hair when she doesn't have any! What a frickin' weirdo!"

"Twerk it girl! #TeamMiley"

"Looks like Mr. Seaver's son might be having 'Growing' Pains after that."

"And here we thought Achy Breaky Heart was the worst thing to have exited his body."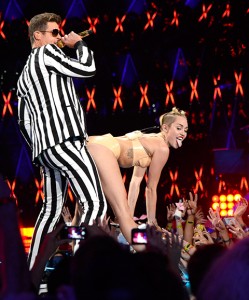 "I wish she would just fade away into obscurity!" said Serahndah Wilkenson, a former fan incapable of dropping the subject. Memes of the fallen Disney star are generating at an unparalleled rate, and as of this writing, Ms. Cyrus has still not apologized to Mormons for not acting like a Mormon. Beehive Bugle will follow this story with the diligence it deserves.
In other news, Miley's publicity team members have each purchased month-long vacation packages to Dubai for reasons unknown, while the United States is planning on annihilating Syria.