WEST JORDAN — Banker Ron Gassoul ordered eggs Friday morning at West Jordan's Black Bear Diner and immediately ordered up his abortion opinion.
"Look, the lazy baby-killer liberals love to talk about abortions like it's a Tupperware party. Well I'm true blue American, and if I have any say…" he said, before making quick work on two separate types of sausage in his mouth, "…we ought to round 'em all up, and you know, take care of them." The banker then stabbed his Chicken Apple Sausage with his fork and finished it off.
Gassoul vacuumed down four large bites of over-easy eggs whose potential for life was lost once sterilization and heating stunted its growth for human gastronomic enjoyment and stressed that family is, "definitely the most important structure," and that those who prefer a liberal lens on the world, "wouldn't give a darn about family since they don't like God," and said that "they have absolutely no respect for any kind of life," as he swirled his fork through the now-broken zygotes of the eggs on his plate. "They're mass murderers, if you think about it."
Leaning askew after straight gorging through a tall stack of Sweet Cream Pancakes, Gassoul fixated on the repetitive mountain landscape wallpaper trim lining the restaurant, seemingly an attempt to channel the energy required to finish his food and thought.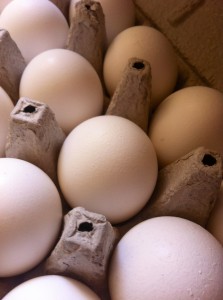 "Everyone knows that the earth is for humans to enjoy. That's why it's okay to kill food, so that we can eat it," said Gassoul, referring to animals. "And it's okay to eat eggs, 'cause it's not like you're killing anything alive."