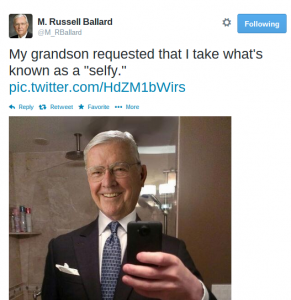 And it came to post.
To the delight of The Deseret News and faithful members of the #LDS church, Twitter accounts have been set up for each of the faith's Twelve Apostles. The mostly octo- and septuagenarian leaders reportedly are going to post inspiring messages and tasteful selfys (sic) to the accounts on their own accord.
Elders M. Russell Ballard and Jeffrey R. Holland wasted no time adding faithful little snippets onto the Twitter; the former dispatched from what seemed to be a rollicking CES devotional in San Diego, while the latter paid a rockstar visit to the MTC and included a picture facing the podium.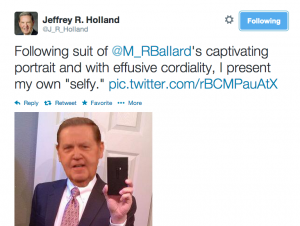 Among the early apostolic updates is an intriguing, jolly-ol'-time selfy (sic) contest between two of the Lord's anointed, in which the winners are they who view the G-rated content so suitably sacrament worthy it could even evoke serious chuckles from your aunt Cynthia. Elder Holland's updates show his trademark command of both the English language and his Samsung Galaxy.
The good, clean fun these servants of the Lord seem to be enjoying has only just begun, and they probably figure that hey, if the Pope can tweet, surely Boyd. K. can unleash a few missives and PR-friendly hashtags. It's also a reminder that the still, small voice is all that's needed to reverberate a hymnal lull in an echo chamber.