SALT LAKE CITY – The 2014 Utah Arts Festival is underway, and just like every year, we'll be live-blog-walking the grounds to bring you the best, most inspiring work from Utah artists, craftspersons, and other talented unemployables from all over the state.
Stay tuned to this post, as we'll be updating throughout the weekend.
———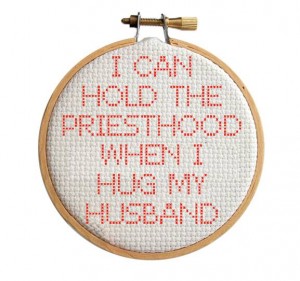 First off, let's turn our attention to the craftwork of Connie West, a Mt. Pleasant native whose work reflects a growing movement in LDS culture.
"We call it Heart Nouveau, and it's about reaffirming our most cherished principles through the works we create," says Connie. "We feel its important to represent our way of life through our art, and that's what I've tried hard to do here."
Ms. West went on to say "Its time to take back our culture from the mockingjays who would peck us apart for our beliefs. If it seems kitsch, outmoded, or cognitively dissonant to a staggering degree, I say 'all the better.' Let's all adopt an attitude of platitudes, and hold fast to what we hold most dear."
You can view Connie's work at booth E72, or google her Pinterest with the hashtag #ordaintheordained.