Former Utah Jazz icon and Laker Legend Karl "The Mailman" Malone said he still gets giddy every 24th of July when the Beehive State celebrates his birthday with a parade.
"Karl Malone love this state. Karl love the crystal lakes of the Uintas, Karl Malone love that big rock with the spray paint by Parley's Canyon. Karl Malone love those rolls at the Lion House. But Karl Malone really, really love his birthday parade."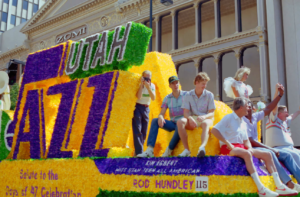 We asked the second-highest scorer in NBA history what he thinks about when he sees the parade and he said, "Hardees" but then elaborated a bit more: "Karl Malone gets the butterflies every July the 24th. Karl Malone feel the same way I did when I gave that punk-ass Dennis Rodman a Diamond Cutter at [WCW's] Bash at the Beach."
The Jazz drafted the power forward as the 13th pick in 1985 out of Louisiana Tech and he spent 18 Hall-of-Fame-worthy years in Utah and one unforgettable year as a Laker. A few weeks after Malone was drafted, Jazz coach Frank Layden—that old school Drew Carey—hoodwinked Malone into thinking the Days of '47 Parade was held in honor of the future two-time MVP's 22nd birthday.
The Mailman, who said he listened to the audiobook of 'The Secret' as he drove his 18-wheeler from Louisiana to Utah, doesn't budge when told the whole thing is a ruse. "Karl Malone know a good joke when he see one. I watch as much M.A.S.H. as the next guy," the Hall of Famer said. "Karl Malone waved in the parade, and the parade was for Karl Malone. I believe the parade is for Karl Malone, so the parade is for Karl Malone, grasshopper."