Bill Murray is a groovy thespian almost as famous for his off-camera exploits as he is for his acting roles. But did you know the famed Ghostbusters star has done his fair share of shenanigans here in the Beehive State? You won't believe some of the hijinks this raucous funnyman has pulled in Utah.
1: He Placed In An Ice-Sculpting Contest In Park City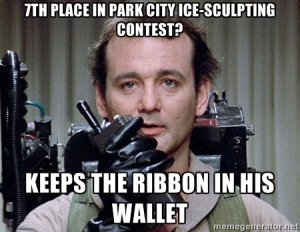 Bill Murray, basking in the limelight of Scrooged, and on a whim, entered an ice-sculpting contest in Park City. He took seventh place, and keeps the ribbon in his wallet to this day.
2: He Won Over a SLCC Professor Using Comedy
During his time as a Salt Lake Trappers owner, Murray enrolled for three credit hours at Salt Lake Community College, turned in a divot of grass from Caddyshack as his midterm, and got a B- in the course.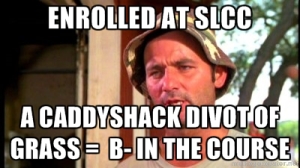 3: He Caught Wild Fish on the Weber River Then Ate Them at a Local Restaurant
Dissatisfied with his fish and chips at [redacted due to pending libel litigation], the Stripes actor rented a fishing pole from the former Gart Sports, caught three fishes, cooked them at his timeshare, then ate them in that restaurant with headphones on. The temerity!
4: He Regaled a Frathouse at the University of Utah
One night, the star who actually agreed to headline the movie Garfield walked into a party at the U of U's Fratican house, proceeded to pour shots for everyone, gave a speech about staying in school, then left. Stuart Lester, a freshman at the time who was present, stated that Murray was "cool as a cucumber."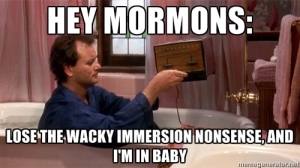 5: He Contemplated Joining the Mormon Church.. Briefly
The avid golfer once wandered around Temple Square, talked to passersby about his admiration for the architecture, and even expressed interest in joining the LDS Church until he found out baptism was strictly full immersion. Murray said the anxiety stems from multiple takes of the diving board scene from Rushmore. Thanks a lot, Wes Anderson!
 6: He Still Holds the Ms. Pac-Man Record at Pie Hole
Murray—Wu-Tang's waiter in Coffee and Cigarettes—while wearing a hoodie with a Weber State logo on it, once played the Ms. Pac-Man arcade game in the back of Pie Hole for three straight hours, and is still on the leaderboard (BFM) all these years later.
7: He Tried to Win Over a Carriage Horse at Temple Square With an Apple
Bill Murray fed organic apples to the horses from the carriage companies when they were stopped at lights on South Temple in front of what is now City Creek mall. One horse denied an apple and the Broken Flowers star is rumored to have said, "It must be a prize horse, I can tell as soon as I look in its mouth."
8: He Caused a Scene on the Blue Line Trax
The What About Bob star once broke out into song on a crowded Trax during rush hour, singing 'Home On The Range," then clarified by saying, "Mountain range, of course."
9: He Turned Down a Role in Church Ball 2
 Murray was offered a lead role in Church Ball 2, but turned it down. Whether the sequel's production was halted for this reason or another, it has not yet seen the light of day. He chose his role in The Darjeeling Limited, instead.
10: He Chatted Up Unbeknownst Tourists On Capitol Hill
Bill Murray once—decked out in tourist attire himself—went around the Utah state Capitol building, conversed with Asian tourists, some of whom knew not who he was. A bespectacled Capitol intern said Murray told him he learned some Japanese for Lost In Translation and wanted to stay fresh.
11: He Was a Devout Patron of Crown Burger.. Until They Pissed Him Off
The centerpiece of The Life Aquatic used to eat at Crown Burger on North Temple in order to park freely for Jazz games, but was reportedly "pissed off" when they upped the price of the required order to $14, and has not been back since.